This section is part of the HarvestCraft mod by MatrexsVigil & Rhodox.
Presser (HarvestCraft)
Edit
Presser
Mod
HarvestCraft
Type
Machine
Durability
N/A
Renewable
No
Stackable
No
 The Presser is a special machine block added by the 
HarvestCraft
 mod.
A Presser is required to create most juices as an alternate to a Juicer. A Presser is also required to turn Honeycombs into Honey and Beeswax.
The recipes that use a Presser are listed at the bottom of the page.
How to Use
Edit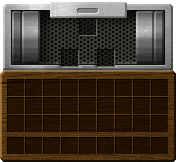 The Presser is a machine, therefore it has its own GUI, which can be accessed by right-clicking on the Presser block. The top slot of the GUI is meant for the input object, and the output appears in the bottom two slots after a short time.
The bar at the very top of the GUI in the middle shows the progress of the crafting process in the Presser.
Crafting Recipes
Edit
Presser Recipes
Edit
The following food recipes require a Presser: Braised Onions, Butter, Candied Ginger, Candied Lemon, Candied Sweet Potatoes, Candied Walnuts, Caramel, Chocolate Bar, Chocolate Cherry, Chocolate Strawberry, Cranberry Sauce, Creamed Corn, Curry Rice, Custard, Ginger Chicken, Glazed Carrots, Gummy Bears, Herb Butter Parsnips, Jelly, Mashed Sweet Potatoes, Orange Chicken, Peppermint, Poached Pear, Scrambled Egg, Soft Pretzel, Spaghetti, Spicy Greens, Spicy Mustard Pork, Taffy.
Ad blocker interference detected!
Wikia is a free-to-use site that makes money from advertising. We have a modified experience for viewers using ad blockers

Wikia is not accessible if you've made further modifications. Remove the custom ad blocker rule(s) and the page will load as expected.