This section is part of the Weapon Mod by BalkondeurAlpha.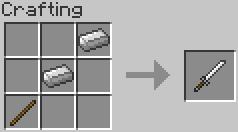 The Katana is a Melee Weapon from the Weapon Mod. It can be crafted out of wood, stone, iron, gold, or diamond. The damage depends on the materials used to craft the Katana.
A katana to kill swiftly!
Attack Speed: Fast
Knockback:* None
| Type of Katana | Damage on Impact |
| --- | --- |
| Wooden Katana | 3 damage |
| Stone Katana | 5 damage |
| Iron Katana* | 7 damage |
| Golden Katana** | 3 damage |
| Diamond Katana | 9 damage |
*The Iron Katana recipe might sometimes craft a Skillet instead. This is due to a recipe conflict with Pam's HarvestCraft in the Life in the Woods modpack.
Edit
**Knockback is increased on any weapons crafted out of Gold.
Edit
Weapon Mod

About Weapon Types
Melee
Throwable
Shooting
Items and Ammunition
Miscellaneous
All information on these pages is for the version of this mod found in the Life in the Woods modpack.