This section is part of the Weapon Mod by BalkondeurAlpha.
Battle Axe (Melee Weapon)
Edit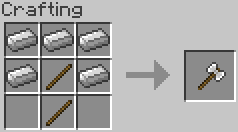 The Battle Axe is a Melee Weapon from the Weapon Mod. It can be crafted out of wood, stone, iron, gold, or diamond.
A battle axe to shave a sheep with style!
Attack Speed: Slow
Knockback:* Large
Special Effect: Ignores armor & can chop wood like a normal axe.
| Type of Battle Axe | Damage on Impact |
| --- | --- |
| Wooden Battle Axe | 4 damage |
| Stone Battle Axe | 6 damage |
| Iron Battle Axe | 8 damage |
| Golden Battle Axe | 4 damage |
| Diamond Battle Axe | 10 damage |
*Knockback is increased on any weapons crafted out of Gold.
Edit
Weapon Mod

About Weapon Types
Melee
Throwable
Shooting
Items and Ammunition
Miscellaneous
All information on these pages is for the version of this mod found in the Life in the Woods modpack.
Ad blocker interference detected!
Wikia is a free-to-use site that makes money from advertising. We have a modified experience for viewers using ad blockers

Wikia is not accessible if you've made further modifications. Remove the custom ad blocker rule(s) and the page will load as expected.